Indian Craftsman In Peril Essay Topics

A point of interest is the extreme simplicity of the craftsman's tools and methods. The painter's brushes, for example, are made of the awns of SIMILE OF TOOLS. various grasses, of squirrels' hair, of roots, or fibre, and he is always able to replace them or modify them at need. The repousser's tools he makes himself to suit the work in hand, and he does not hesitate to make a new tool out of an old one for a special purpose. The value of this simplicity lies in the fact that the craftsman relies upon himself rather than upon his tools, and at the same time is completely master of them, adapting them exactly to the requirements of the moment.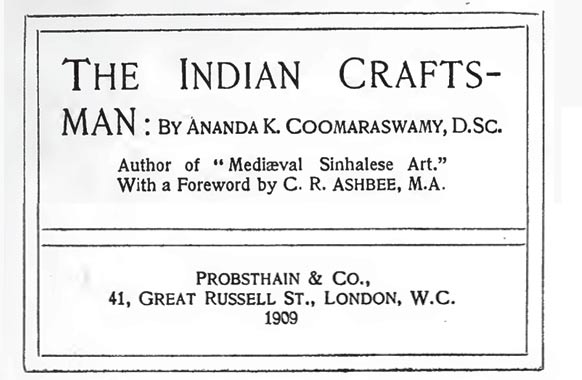 Book Cover – The Indian Craftsmen
These lines were written by an eminent philosopher of Indian art- Shri A. K. Coomaraswamy in his book 'The Indian craftsman'. The book sheds light on the value of crafts before industrialization of commodities and the philosophy which sustained craftsmen through vicissitudes. The digital version of this book  (The Indian Craftsmen)  is available for free.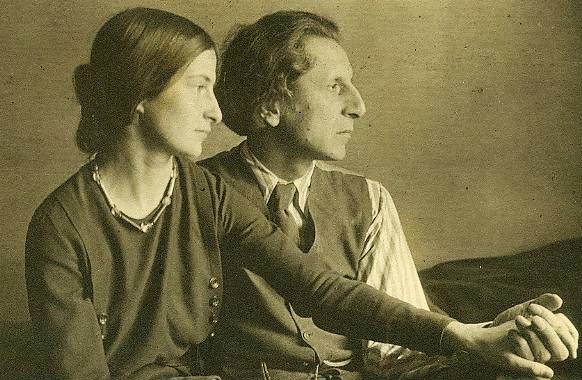 Image by ~ http://parabola-magazine.tumblr.com/
Shri. A. K. Coomaraswamy was a Ceylonese philosopher and metaphysician. A pioneering historian and philosopher of Indian art, particularly art-history and symbolism and an early interpreter of Indian culture to the West. In India, he was part of the literary circle around Rabindranath Tagore and contributed to the "Swadeshi" movement, an early phase of the struggle for Indian independence.
~

Working with skilled local craftspeople is both a duty and an opportunity for Indian designers, says Prateek Jain of lighting design company Klove, in the third and final movie from BE OPEN's Made In… India Samskara exhibition in New Delhi.
"It's the biggest job of a designer to make sure that they work with handicrafts people," says Prateek Jain, co-founder of Klove. "Whether it's a fashion designer who works with an embroiderer or whether it's us working with wood carvers or stone cutters."
Both sides benefit when designers work with traditional craft producers, says Jain, and can help bring craftsmen's work to new markets. "It's very important to apply a more contemporary design aesthetic to these handicraft [skills]" he says.
Jain's chosen medium is glass, thanks to an encounter he had with craftsmen in Ambala, a town in northern India. When he saw local glass-blowers creating intricate glassware for laboratories, he knew he had spotted an opportunity.
"We saw that they were doing these beautiful, flawless bowls of silica glass," he says. "The blowers had been making beakers, flasks and test tubes for generations. We realised that [we could use] this skill set to explore home decor."
Together with his partner Gautam Seth he took these techniques used for creating lab-ware into unexpected contexts: creating luxury lighting installations for an international client base.
Klove now creates large, ornate custom-made lighting installations working in a palette of blown glass, brass, steel and copper.
Klove was participating in the Made In… India Samskara exhibition. Curated by Fashion Design Council of India president Sunil Sethi and creative think tank BE OPEN, the show celebrates collaborations between contemporary Indian designers and skilled Indian craftsmen.
For the show Klove used blown glass and beaten metal to create a large lighting installation in the shape of a peacock, India's national bird.
"We knew that [the curators] wanted to represent India in a modern way. Instantly the idea of a peacock came into our head because it's the national bird," says Jain. "We wanted to represent the peacock in a contemporary manner but at the same time have a strong Indian aesthetic to it".
The feathers that make up the peacock's fanned tail are represented by 48 slender glass stems, similar in form to elongated laboratory flasks.
"The great part about being in this country is that you have great access to a great resource of talent. You have craftsmen who have been doing this work for many centuries" says Jain.
Samskara, which ran from 10 to 28 February at the Indira Gandhi National Centre for the Arts in New Delhi, launched BE OPEN's Made In... programme, a two-year-long project focussing on the future of craft in design.
The music featured in the movie is a track called Bonjour by Kartick & Gotam on Indian record label EarthSync.